Summary:Butterfly valves have several advantages, including: Low cost: They are relatively inexpensive to manufacture and insta...
Low cost: They are relatively inexpensive to manufacture and install compared to other types of valves.
Compact size: Butterfly valves are smaller in size and take up less space than other types of valves, making them ideal for use in tight spaces or for applications where space is limited.
Low pressure drop: Butterfly valves have a low-pressure drop across the valve, which results in less energy loss and improved flow control.
Easy to operate: Butterfly valves are easy to open and close, requiring only a quarter turn of the valve handle to change the flow.
Versatility: Butterfly valves can be used for a wide range of applications, including flow control for liquids, gases, and slurries.
Durability: Butterfly valves are typically made of durable materials that can withstand harsh conditions and have a long service life.
bi-directional flow: Butterfly valves can be used in applications where flow needs to be controlled in both directions.
PPH THERMOPLASTIC LEVER BUTTERFLY VALVE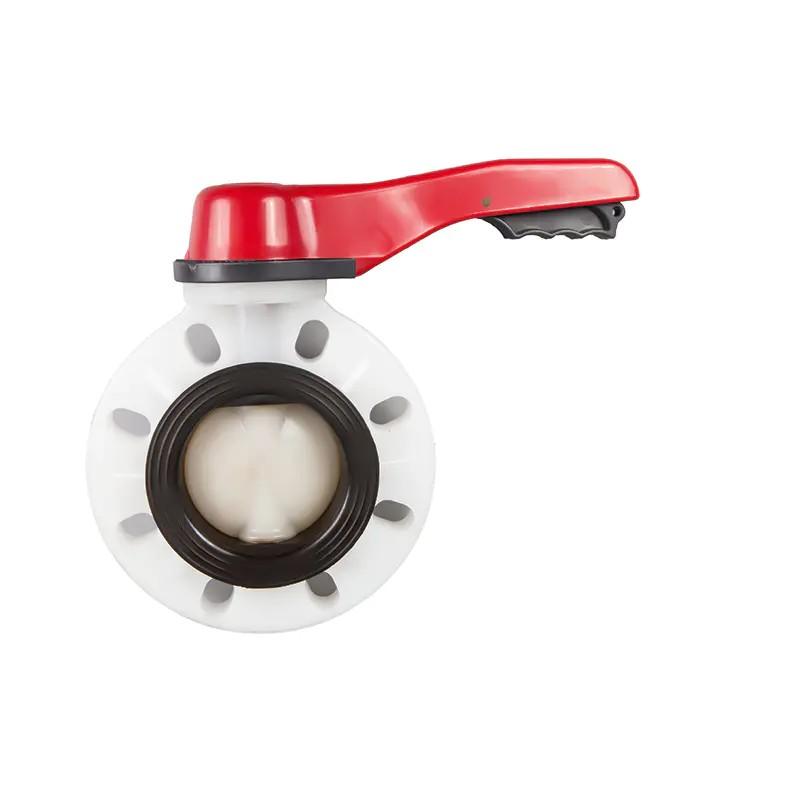 Media: Chemical, water, oil, food
Material: PPH
Other material: CPVC, UPVC, PVDF, FRPP
Driving Mode: Manual
Connection Form: Wafer
Structure: Centre Sealing
Valve Stem: Normal
Seal Form: Auto Sealed/Force Sealed
Work Pressure: Low Pressure (Pn<1.6mpa)
Working Temperature: Normal Temperature (-40°C<T<120°C)
Material of Seal Surface: Soft Sealed
Valve Body: Injection
Model NO.: D71X-6F
Size: Dn25-Dn800
Application: Industrial Usage, Water Industrial Usage
Trademark: Baodi
Specification: HG, JIS, DIN, ANSI
Transport Package: Carton/Plywood Box
Specification: 1"-6"
Origin: China
HS Code: 8481804090
Seat: EPDM/FPM/VITON
End connector: Flange, wafer type
Operating: Lever/Worm gear
Working pressure: 0.5-0.7MPa